===================================================
If you prefer to read this review in PDF format, click the link below:
http://www.zamrinanyan.com/gifts/linktrackrreview.zip
===================================================
And That's Why You MUST Have LinkTrackr.com!
Reviewed by Zamri Nanyan
One email came to me lately.
Here's the edited conversation for easy reading.
"Zamri, could you help me out? I've done a lot of promotions to one of the affiliate programs I joined. I've posted my affiliate link on Facebook, forums and other websites that I can possibly leave the URL. I've been doing this for two months and sadly, I've gotten only one sale. How can I improve my sales? Could you look at my website?"
My reply came with another question, "do you know how many people visited your website from all these different promotions?"
"No but can you look at my website?"
"Hello! Didn't you get my question? ", I thought to myself, sighing!
To cut the story short, many people are still thinking that as long as they promote and market their website, that's good enough. "Surely people will buy what you have to offer", so they think. After all, that's better than building a website and hoping that people will come and visit you by magic.
Unfortunately, website conversion and traffic statistics are two different things. If you are shooting in the dark and do not know how much traffic you're getting from your promotions, your website conversion is out of the question. Why? What if you only get 70 visitors a week to your website? There's no point in tweaking your website to get sales from very little to no traffic to your website.
Does that make sense?
Google Analytics is cool but for tracking traffic to your website from forums, Facebook, email marketing, articles, blogs is a bit tricky. You need to have another method to make sure all the traffic statistics are recorded. It is much more important to do it so if you are promoting affiliate program, simply because, most of the time, you don't know at all where the clicks to your affiliate link are coming from.
So how do you do that?
Here's what you can do – cloak your affiliate link that can track raw and unique clicks to your website.
For example, instead of promoting http://www.bluehost.com/track/millionaire (raw affiliate link) for Blue Host Webhosting service, you would create these links that redirect and track clicks to your Blue Host affiliate link:
Now you will know how many clicks are coming from each source and all of them are redirecting back to your Blue Host affiliate link. From each of these sources, you will know if it's worth to focus in one or two (or all) marketing campaigns, and you know now that you're not shooting in the dark.
Every click on the cloaked links above are recorded for your easy reference and study later!
Guys & gals! This is important.
You want to track the clicks to your website links to find out if your promotional activity is generating interest on your offer. If you are still promoting a website that does not get any click, you know that you should do something, like not promoting that website anymore (among many actions you should take), but if you don't even know if you're not getting any click and you're still promoting that website, that's the worst marketer that I've ever known.
Get your website link tracked.
Know your traffic statistics.
…and That's Why You MUST Have LinkTrackr.com.
.
LinkTrackr.com
Tracking click statistics in your affiliate promotion is very important, and over the years, I've been using many services to do just that – tracking clicks to my affiliate links.
Up until now, I'm still using a few link tracking services because those links I'm promoting are still all over the internet, but lately I just found a winner among many link tracking services that I have used.
LinkTrackr.com
This is a service from Gobala Krishnan and you can have a look at his service at http://get.linktrackr.com/linktrackr-report
To help you understand more about LinkTrackr, just look at the diagram below:
As you can see from the above, you will send all your traffic from different sources to your LinkTrackr, and LinkTrackr will cloak your affiliate link of redirect your traffic to your desired website.
What else can Linktrackr do?
Easily Cloaking and masking affiliate links using centralized web-based software
Tracking hundreds of PPC campaigns, banner ads  and other advertising clicks
Creating viral promotions and getting free traffic from popular social media sites
Tracking sales conversions accurately and making smarter advertising choices
Split testing your landing pages to enhance and dramatically improve your conversion rates
Automating blog monetization with simple but powerful LinkTrackr WordPress plugin
In other words, it's a complete link tracking service that I've ever seen, and more importantly, it's easy to use too.
I don't simply say that blindly just to promote LinkTrackr or any other affiliate programs. I'm telling you in a user point of view (since I have been a customer since the launch of LinkTrackr.com).
Here are the steps you need to take to create your cloaked link.
Give the name to your link (for easy reference)

Input your Destination URL such as your affiliate link or website

Give the name to your LinkTrackr Tracking Link

Assign Tracking Group to this link (optional)
And you are ready to go. Others are just additional optional features to add into your tracking campaign.
How cool is that?
Here's another great feature that I love about LinkTrackr.
.
Viral Bar
Did you see that?
It's a viral bar that will get others to promote you website.
Picture this! You send a cloaked affiliate link to your mailing list. Out of 100 people who see the website, 30 people use the viral bar and tell their friends on Twitter and Facebook.
Now, you will never know how many people will come over and check your website again because those 30 people probably have 3,000 or 4,000 friends from their Facebook or Twitter accounts and they are referring your link to all of their friends.
In short, you could end up getting more than the original 100 people you referred earlier who come and visit your website.
It doesn't stop there. What happens next is the same people that were referred to your website will probably use the viral bar again to refer others and the process could go on and on over time. That's how the viral bar works and it's already built-in inside LinkTrackr – you just have to activate it. It's a 2-in-1 feature (link tracking and viral marketing), if you'd ask me about it.
.
WordPress Link Tracking Plugin
Another feature that's worth mentioning about LinkTrackr is its ability to automatically convert keywords in your blog posts to affiliate links. Just install a simple WordPress plugin, and you're ready to go.
Plus, unlike most other plugins, you can use it on all your WordPress blogs without having to enter the same link twice.
Now, how about turning all those keywords on your WordPress blogs into affiliate links? It's really awesome and you should try it.
I hope my brief explanation about turning your WordPress keywords into profitable links was easy to understand but if you did not get what I'm trying to tell you, click "PLAY" below and watch it yourself.
You'll love this feature. I promise…
Now, there are many other features that I'm not going to mention here in details. Otherwise, it would be another long report that will take up a lot of your time. But these features are a very short summary of LinkTrackr service before I tell you one piece of good news:
With LinkTrackr, you can do…
Cloaking & Masking Affiliate Links or Any Websites
Tracking Sales Conversion
Optimizing Your A/B Split Test
Tracking TID Affiliate
Cloaking WordPress Link
Marketing Using Viral Social Media
Analyzing Ad Tracking Clicks
Tracking Using Your Own Custom Domain
The above is already a long list actually, considering that LinkTrackr is first supposed to be tracking affiliate links only, but Gobala goes the extra miles and give more than you asked for. The last time I talked to Gobala, he also planned to add more and more features and improve their services. While I don't know what kind of features that Gobala is going to add in, I've been more than happy with all the improvements so far.
LinkTrackr is my main tracking tool now and I don't plan to switch to any other services. It's a great tool and you should have it too.
.
Pricing
LinkTrackr has a very competitive pricing. Comparing to the service that I used previous, I had to pay $19.95 every month just to use the link tracking feature, while LinkTrackr starts with (get this)… $0!
Yup, that's the good news that I'd like to tell you above.
You can get a free account with LinkTrackr and test-drive the system yourself. All of what I've written in this short report will be verified by your own experience and you'll discover a lot more than what I've written.
Once you see the power of LinkTrackr, you can choose to upgrade to Basic, Pro or Xtreme Package for the monthly price of $9, $17 or $27 consecutively.
So, make sure you use of the special FREE LinkTrackr Account you're getting from the link below and experience yourself the power of link tracking in your business.
Click The Link Below To Sign Up!
http://get.linktrackr.com/linktrackr-report
Oh, before I sign off…
Let me end the story of the person who contacted me earlier about how to improve his affiliate sales.
Too bad – after getting advice from me, that person did not get back to me anymore. I know he is one of my subscribers and I hope this report goes directly to him and he'll take action from the knowledge I shared here.
Same goes to you… I hope you see the importance of tracking your affiliate promotions and at least you sign up the free account with Linktrackr or immediately get the paid version (you won't regret it).
Don't do marketing in the dark anymore.
Get LinkTrackr!
Sincerely,
Zamri Nanyan
PS. If you found this report useful to you and others, forward it to others.
.
Request Your Free Report!
"The 7 Sins Of Affiliate Marketing"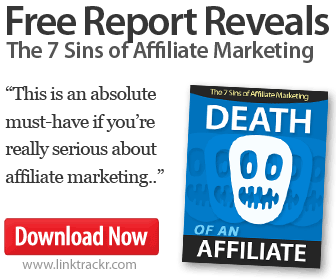 Free Affiliate Marketing Tips
http://get.linktrackr.com/linktrackr-report
This post was created for the LinkTrackr February 2011 Contest where you stand a real chance to win a brand new Apple iPad 64G with 3G + Wifi worth $839.
Most people just follow others without knowing what they are doing is the right thing or not.
That's why at the end of the month, you wonder why you don't get the income as much as you got last month.
Worst – you don't get any income at all.
So, how do you secure your monthly income?
Simple.
Make sure your system is giving you a monthly income.
If you are selling your own products, make sure your product sales reach the quota of your desired income monthly.
That could be hard if most of your marketing effort is based on hard work.
Now, consider this…
Why not promote programs that pay you monthly (or weekly)?
Programs like these are a lot out there.
Monthly membership site is one of them. For example, if you promote Aweber and you get 5 customer this month. Next month, you'll still get commissions from the same 5 customers if they stay as paying members.
http://bisnesdigital.com/aweber
How about internet MLM? You can leverage on other people's effort up to certain levels.
Ah, I hear it. You don't like MLM or direct selling.
Believe me, internet MLM is not like conventional network marketing programs. You promote your business on the internet just like you do affiliate program.
It is as simple as asking your prospects to visit a simple link.
Not convinced?
Click the link below:
http://www.freedom.ws/zamrinanyan
I'm not hunting you down like the convensional MLM, am I?
Well, there are many more programs that pay your monthly. Just browse around and you'll find a few good ones.
But the most important message that I want to put across is that you want to promote programs that pay you monthly with the work that you have to do only once.
Then, you can secure your stable monthly online income – and do other activities that you like.
warmly,
Zamri Nanyan
7 Benefits Of Getting A Hand On Web Fusionology And How It Can Help Your Home Business
BENEFIT #1:
You get to even the playing field when you get the Private Label Rights to each of the books, articles and videos.
You can also edit the Microsoft Word Document and use it for any content you wish and even brand yourself as an author of the books or articles.
In other words, you will be saving lots of time and money in hiring people to create content which is essential for any online marketer.
BENEFIT #2:
You can use the content as a source to generate traffic for your lead capturing pages, websites, blogs and other published materials online.
You can use them to drive hundreds of leads from article directories, video directories, f'ree E-book sites and many more.
BENEFIT #3:
You can sell the e-books and keep 100% of the profits.
In fact, you can sell them for 2 to 3 times the money!
For the low price you are paying for the entire package, you can recoup your investment and even make 10-100 times the sum of your investment.
http://tinyurl.com/webfusionology
BENEFIT #4:
You can use the books to turn yourself into a leader in your field.
This is extremely crucial because nobody is going to listen to what you have to say unless they are sold on the idea that you are an expert in the field.
By branding yourself as an author of the books, you not only save 99.9% of the time on product creation and writing, but you also instantly gain 'expert status' because you are now a book author!
BENEFIT #5:
Learn how the home business industry works.
These 10 books are carefully researched and are timeless because of the way the content is written.
You can learn a lot from reading the books itself.
BENEFIT #6:
You can pass the books to your organization and use them as useful training materials.
This is good because you want your entire team to move at the same pace because they all have the same training.
BENEFIT #7:
The books are very good viral marketing tools.
They are even more useful than physical books because you can easily duplicate them electronically without paying anything for paper or ink.
You can also backend your ads and affiliate programs and increase your profits by 150% to 350%.
Here's the link to get your Fusionology Blueprint:
http://tinyurl.com/webfusionology 
WARNING & BONUS GIFTS
The price for Web Fusionology will double up in less than 15 hours. Get this product at a very huge discounted price as soon as you can.
And for a very limited time, send me your proof of purchase and I'll give you 74 audio interviews of top internet marketers. These are the lineup for the interviews:
Jonathan Mizel
Ewen Chia
Rosalind Gardner
Mike Dillard
Mike Filsaime
Gary Ambrose
Alok Jain
Alex Goad
Alvin Phang
Jack Humphrey
Willie Crawford
Kevin Reiley
and many more…
But hurry, I can only give these 74 interviews if you order by 30th May. After that, I'll pull this offer off because I plan to sell these interviews (and not give them away anyways).
Here's the link to get your Web Fusionology again:
http://tinyurl.com/webfusionology
Lately, I've been getting requests from subscribers to teach them how to build a business on the net.
I know the fact that one of the best ways to cut-short your journey on learning anything is by having a coach.
That's the reason why I've been reading some materials on how to effectively do coaching.
There are quite a few good products that talk about coaching but most of them cover the old conventional ways of coaching that require lots of your time and work.
I guess this is the reason why most people do not go into coaching business although they have expertise to share with others… although they know that coaching can bring in HUGE profits every month.
Fortunately, I found a resource that could solve this problem.
So, if you are into coaching others to create a big income without taking so much of your time, this could be the answer:
http://guruslayersystems.com/StartACoachingProgram
I like the 3 tips from this report and what more important is that almost anyone can start a coaching program after reading and applying one of the methods explained by Jimmy.
You think you can't coach others?
Read the report and think again.
You'd probably find a niche in you that people are willing to pay good dollar for your advice (which you can probably learn from a few books or materials in your niche).
Here's my recommendation again:
http://guruslayersystems.com/StartACoachingProgram
warmly,
Zamri Nanyan
ps. this report comes with a resell rights license. You can recoup back your small investment with just one sale.
I think the internet marketing world is always busy… never stops spinning around… faster that you will never be able to catch all the news on every single product launch and promo.
I've seen so many launches in my inbox and JV requests but will never be able to entertain all. Recently, a few friends of mine were also requesting me to join their launch but I could not. Not because I did not want to help them out but because I did not have enough time to review their product.
Ah yea… why was I so tight up that I did not have enough time?
Well, actually it's the opposite.
I was on a rush to go for my family vacation.
At this time of year, almost every year, I would take at least a week off to bring my family to a holiday.
This time… we went to Redang Island – one of the islands in Malaysia which is really beautiful, with white sandy beaches and crispy clear water (don't take my word for it, just see some photos I have below)
my son fighting with fish… Kung Fu style!
here's my daughter trying to grab a few striped ones…
me… overlooking the South China Sea
breathtakingly beautiful… (did you spot the two Japanese painters in the pic?)
Laguna Beach Resort… the place where we stayed
a nearby resort
evening time…
and more pictures in my Facebook album at http://www.facebook.com/album.php?aid=2018344&id=1517313761
Yeah… needless to say, I really enjoyed the time off…
And right after coming back from Redang, a friend of mine, Jaz Lai came to Penang to have his own internet marketing workshop.
I did help him find the hotel and seminar rooms before going to Redang. When I got back to Penang, Jaz and his team have already arrived.
Here are some pictures of me and the others…
See if you can find Jaz Lai, Khai Ng, Ladan Lashkari, Edmund Toh… and ME!
Hope this post will help you relax from all the hectic emails of mega product launches here and there…
take care,
Zamri Nanyan
Last weekend was one of my best 3 days this year.
I got to meet many top marketers (some of them are my friends) and we got to share lots of info and as well as catching up with each other.
The event was called Global Internet Summit and it was the first time organized in Penang (where I live).
Speakers like Edmund Loh, Vince Tan, Alok Jain, Jaz Lai and many others were there.
Patric Chan appeared as a special guest speaker on the last day and I guess lots of people were very pleased.
I wrote something about the last day of the event and it is associated with something ad-hoc that I put to generate extra income while being in the seminar.
You can see how the last day of the seminar go by from my report below and see how I made extra pocket money with only one email.
Oh yes, there's a lesson in email marketing in the report as well.
http://zamrinanyan.com/ADayAtGlobalInternetSummit.pdf
Feel free to distribute the report to anyone you know.
This report customizable. Look at the last page in the PDF file to get your brandable report.
warmly,
Zamri Nanyan
ps. sorry for taking so long to be in touch again. I had a project for the local market that required me to keep a distance a bit.